Standard 3R Photo Size is the dimension of length and width of a photo or image, units in mm (millimeter or millimetre), and can also be converted into units in cm (centimeter or centimetre) or inch (in). In this case the photo size is included in R Series as international standards.
Standard photo print sizes included into the category of R Series including 2R, 3R, 4R, 5R, 6R, 8R, 10R, 11R, 12R, 14R, 16R, 20R, 22R, 24R, 30R, commonly used on paper types for printing photographs or other measures. In present time there are many types of photo paper that is often used for photo printing, for example, glossy and matte photo paper.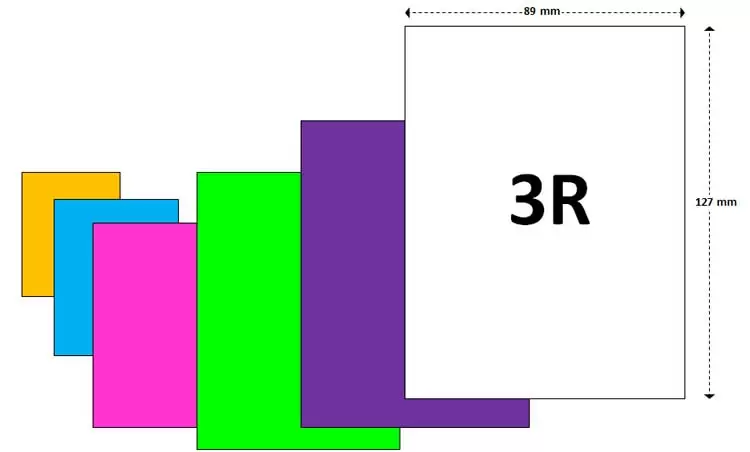 Dimensions of the image size according to the standard of R series can be seen in millimeter according to the description below. To get the value in cm (centimeter), you can convert the value from mm to cm by divided by 10. Photo paper is widely used in general throughout the world. Photo Paper R Series is a standard measure commonly used in the various countries.
These are the size of 3R photos converted into units in mm, cm, inches:
3R Photo Size in mm
3R Photo Size in mm is 89 x 127 millimeters.
3R Photo Size in cm
3R Photo Size in cm is 8.9 x 12.7 centimeters.
3R Photo Size in inch
3R Photo Size in inch is 3.5 x 5 inches.
| | | | |
| --- | --- | --- | --- |
| Photo Size | unit mm | unit cm | unit inch |
| 3R | 89 x 127 | 8.9 x 12.7 | 3.5 x 5 |
About Photographic paper
Photographic paper is a paper coated with a light-sensitive chemical formula, used for making photographic prints. When photographic paper is exposed to light it captures a latent image that is then developed to form a visible image; with most papers the image density from exposure can be sufficient to not require further development, aside from fixing and clearing, though latent exposure is also usually present.The light-sensitive layer of the paper is called the emulsion. The most common chemistry was based on silver salts (the focus of this page) but other alternatives have also been used.
The print image is traditionally produced by interposing a photographic negative between the light source and the paper, either by direct contact with a large negative (forming a contact print) or by projecting the shadow of the negative onto the paper (producing an enlargement).
The initial light exposure is carefully controlled to produce a gray scale image on the paper with appropriate contrast and gradation. Photographic paper may also be exposed to light using digital printers such as the LightJet, with a camera (to produce a photographic negative), by scanning a modulated light source over the paper, or by placing objects upon it (to produce a photogram).
All photographic papers consist of a light-sensitive emulsion, consisting of silver halide salts suspended in a colloidal material – usually gelatin- coated onto a paper, resin coated paper or polyester support. In black-and-white papers, the emulsion is normally sensitised to blue and green light, but is insensitive to wavelengths longer than 600 nm in order to facilitate handling under red or orange safelighting. In Chromogenic colour papers, the emulsion layers are sensitive to red, green and blue light, respectively producing cyan, magenta and yellow dye during processing.